We Offer Stump Grinding For Your Low Country Home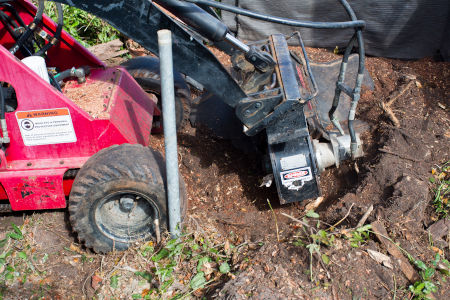 Tree stumps on your Johns Island property can drastically spoil its beauty. If you have a leftover tree stump on your property and you've been considering ways to have it disposed of, stump grinding is an efficient way to make your home safe while boosting its outside aesthetics.
Reasons To Get Your Tree Stumps Removed Today
There are many benefits to hiring a professional tree service to remove a tree stump in your yard, including:
People and children can trip over a stump, especially if it's located in an awkward location.
Stumps take up space that would be beneficial for landscaping, patios, and more.
When a tree stump begins to rot, insects and pests often create a home in the rotting stump.
Tree roots can spread and cause cracks and damage to the paved area near the stump.
Tree stumps typically harm surrounding plants and trees, restricting growth and consuming valuable root space.
If you are thinking about reselling your home, the stump can become a liability that can distract a potential buyer or reduce your home's value.
Tree Logic of Charleston is the best Johns Island tree service for stump grinding and tree removal. We offer free estimates and can schedule a stump grinding consultation by visiting your Johns Island home. Reach out to our team today.
Need an Expert Landscaping Company?
Contact Tree Logic of Charleston LLC Today!
Our Latest Articles
Tips To Protecting Your Landscape While Power Washing or Soft Washing Your Home

Tips To Protecting Your Landscape While Power Washing or Soft Washing Your Home When you plan a power wash for your home, it's important to ensure your plants are protected. If mishandled, power washing can expose your plants to chemicals and water pressures that can cause damage. When you work with a professional power washing […]

How To Prepare For Tree Removal Services

How To Prepare For Tree Removal Services When it comes to the point that a sick or damaged tree in your yard must go, your next thought may be, what happens now? If you've never had a tree cut down, you may have many questions like how do you cut a large tree? Do I […]

What Our Clients Are Saying
We used Joe and his team when we bought our house on Seabrook Island. The whole lot was covered with overgrown trees and the branches were hanging over the house and dangerous for storms. Joe and his crew gave me a very reasonable quote and did many extras for us without our asking just because he wanted to take good care of us. We are very happy customers and would definitely recommend Joe and his crew [...]
Joe and the crew of Tree Logic have done a great job in maintaining the trees on my property in trimming and removal. You can count on Joe to be prompt and thorough ! Excellent company! [...]
Contact Tree Logic of Charleston
If you are looking for the best stump grinding in the Johns Island area, then please call 843-819-0289 or completing our online request form.