Trust the Low Country Area's Top Tree Removal Team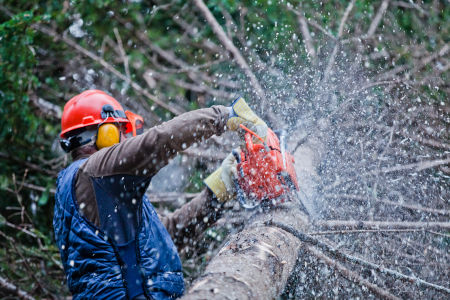 If you need to hire a professional tree removal service in John's Island, Tree Logic of Charleston is the best company for the job. We ensure that problem trees are removed completely and safely without affecting surrounding properties. The pros at Tree Logic of Charleston offer fast and professional tree trimming and stump grinding services in John's Island, including emergency storm damage removal.
Tree removal is a hazardous task and should be handled by highly trained tree experts. It's vital that the tree removal specialist you choose is knowledgeable and will establish a working environment that will eliminate damage or injury. Many homeowners believe that removing only a part of a tree is a cheaper solution than removing the tree entirely; however, remaining tree stumps can still cause problems for your property. If you need expert advice on tree removal or stump grinding in Johns Island, call us at 843-819-0289 today.
Professional Tree Removal Services In Johns Island That You Can Trust
Tree Logic of Charleston handles all aspects of tree service for Johns Island residents, including removing aging, damaged, and rotting trees. A rotten, weak tree can fall during inclement weather, which will cause serious damage to your home, family, neighbor's, and even power lines.
Call on a tree removal service that you can trust to take care of your property on Johns Island. We offer free estimates and would be happy to schedule an appointment to assess your tree removal needs.
Latest Tree Removal Projects
Need an Expert Landscaping Company?
Contact Tree Logic of Charleston LLC Today!
Our Latest Articles
Tips To Protecting Your Landscape While Power Washing or Soft Washing Your Home

Tips To Protecting Your Landscape While Power Washing or Soft Washing Your Home When you plan a power wash for your home, it's important to ensure your plants are protected. If mishandled, power washing can expose your plants to chemicals and water pressures that can cause damage. When you work with a professional power washing […]

How To Prepare For Tree Removal Services

How To Prepare For Tree Removal Services When it comes to the point that a sick or damaged tree in your yard must go, your next thought may be, what happens now? If you've never had a tree cut down, you may have many questions like how do you cut a large tree? Do I […]

What Our Clients Are Saying
We used Joe and his team when we bought our house on Seabrook Island. The whole lot was covered with overgrown trees and the branches were hanging over the house and dangerous for storms. Joe and his crew gave me a very reasonable quote and did many extras for us without our asking just because he wanted to take good care of us. We are very happy customers and would definitely recommend Joe and his crew [...]
Joe and the crew of Tree Logic have done a great job in maintaining the trees on my property in trimming and removal. You can count on Joe to be prompt and thorough ! Excellent company! [...]
Contact Tree Logic of Charleston
If you are looking for a superior tree removal in the Johns Island area, then please call 843-819-0289 or completing our online request form.